We can implement any of your individual requests for windows and doors
Any kind of individual requests
Do you have some special needs to glaze a cottage or a building? Do you have a task from your customer but not enough details or specifications of the products? Are you looking for advice or options on how to do it, from which materials, and what is better? Talk to us, and we will:
provide you an expert advice
review your drawings and specifications
offer you several variants and suggest the best solution
and, of course, we will produce and deliver what you need
Our company pays special attention to manufacturing non-standard windows and doors, unique for each customer. Custom windows are available in any geometric shapes and styles, providing countless design possibilities.
We offer:
expert consultation / advice
suitable variants and options
quick calculation of the cost of the order
premium service and order processing
if needed, urgent launch of your order into production
fast and timely delivery
The following options for non-standard designs are possible:
Plastic structures

windows, doors, terraces, partitions, sliding structures - premium quality by REHAU

Aluminum structures

windows, doors, terraces, partitions, sliding structures

Tempered glass structures

doors, terraces, partitions, sliding structures

Many variants for decoration and colors

on-request lamination, dyeing, glass decorations

For cottages, buildings and commercial real estate

any complex constructions
Plastic structures
PVC constructions by KORSA Fenster GmbH offer an ideal solution for those who value German reliability, comfort, energy efficiency, and aesthetics. Our windows, doors, terraces, partitions, and other products are made from high-quality materials, incorporating cutting-edge technologies and your personal design preferences. We provide various structural and technical options for closing openings to meet your functional and design needs.
With more than 20 years of cooperation with company REHAU, we're on the cutting edge of new technologies with their latest innovations. We have deep expertise and our own patents for crafting complex structures such as round, arched, trapezoidal, triangular, and designs with curved mullions. Regardless of your request for window or door constructions, we are ready to turn your desires into reality.
We proudly announce that we can deliver your windows or doors within an incredibly short timeframe - just within 2 weeks. This enables you to respond promptly to the requests of your customers and manage your projects with confidence. Contact our managers for expert advice on any matter related to plastic constructions right now and be assured of your choice.
Aluminum structures
The choice of aluminum constructions will undoubtedly be appreciated by those for whom not only the stylish appearance of windows and doors matters but also their operational characteristics. Aluminum constructions can come in any size, rectangular or sloped shape, depending on the requirements and preferences of the customer. They allow for the realization of various architectural and design projects such as sliding systems, doors, partitions, terraces, and facades.
We have our own production of aluminum constructions equipped with state-of-the-art machinery. In addition, KORSA Fenster GmbH also boasts highly qualified personnel who will assist in bringing your design preferences to life. We offer custom manufacturing of aluminum constructions and provide a 5-year warranty, ensuring the long-term quality of aluminum constructions and your comfort. Contact our managers right now and be confident in your choice.
Tempered Glass Constructions
Tempered glass window and door constructions from KORSA Fenster GmbH represent an elegant and trendy solution for decorating various types of spaces, such as bay windows, balconies, terraces, balconies, cottages, commercial spaces (shopping centers, train stations, offices, etc.). They infuse the space with sophistication and add a certain charm and solidity to the room. You can choose any type of glass and decor to create the exact design for your project that you wish to achieve. Such constructions also possess high mechanical strength and stability, ensuring safety and reliability, even with panoramic or any other type of glazing.
KORSA Fenster GmbH guarantees high quality and speedy execution of orders for any type of constructions, and our managers are committed to addressing individual customer requirements in collaboration with our engineering and design department, supply department, and production department. By choosing glass constructions from KORSA Fenster GmbH, you receive a 12-month warranty, which is a guarantee of the long-lasting quality of windows or doors and your comfort. Don't delay, take a step towards modernizing your space with KORSA Fenster GmbH.
Advantages of Working with Us
KORSA Fenster GmbH is your reliable partner in creating customized window and door structures that cater to your individual and exclusive needs. We are dedicated to ensuring maximum customer satisfaction. We offer various structural and technical options that align with your functional and design requirements. Each case is assessed individually, and we provide professional consultations to our clients. We adapt to your schedule and needs, even if it involves unscheduled work and urgent delivery, to ensure timely completion of construction projects.
Various structural and technical solutions

Solutions for individual and specific cases

Adherence to deadlines for project completion on-time

Individual glass decor, stained glass, and muntins

On-request lamination and dyeing

Any combination of colors

Our commitment to meeting customer's individual needs

Individualized logistics for each client
Lamination and Dyeing
In order to give your windows and doors a unique and original appearance, we offer the option of dyeing and laminating PVC profiles. You will be able to easily select the window color that complements your interior and exterior design.
For laminating PVC windows and doors, our company uses high-quality film from the German manufacturer RENOLIT SE. The uncompromising quality of RENOLIT films is based on the 50-year history of RENOLIT SE. RENOLIT lamination films are produced at 24 company plants. A quality control system certified to ISO 9001, state-of-the-art equipment, and highly skilled specialists enable us to achieve high-quality RENOLIT films.
In addition to lamination, we also offer dyeing of PVC windows and doors for our clients. We dye PVC profiles with high-quality paint from the Swiss manufacturer FEYCO.
Sandblasting Glass Treatment
One of the most popular and unique methods for creating frosted and patterned effects on glass is sandblasting treatment. Sandblasting reduces the transparency of the glass while maintaining its light transmission capabilities.
We can create designs of any complexity, including patterns, inscriptions, artwork, and logos - all according to your preferences.
Colored Hardware
When ordering PVC windows or doors with lamination, don't forget to consider the choice of color for handles, door hinges, and hinge covers. Laminated windows are rapidly gaining popularity among owners of private houses, cottages, and apartments. Additionally, laminated windows have found their application in office spaces, shops, cafes, restaurants, banks, and airports.
Colored PVC windows accentuate the interior design concept and enhance the overall building decor.
We offer various options for colored handles and hinge covers that will complement any color of laminated windows or doors. Our managers will be happy to assist you in selecting the appropriate color.
Photo gallery of our works
Get in touch with us today!
We are pleased to present you a wide range of windows, which includes various types of materials and designs for your project.
Choose the solution that best meets your needs and requirements!
Aluminum systems from leading EU manufacturers

Manufacturing windows since 1998

Fast and on-time delivery
Round and arched structures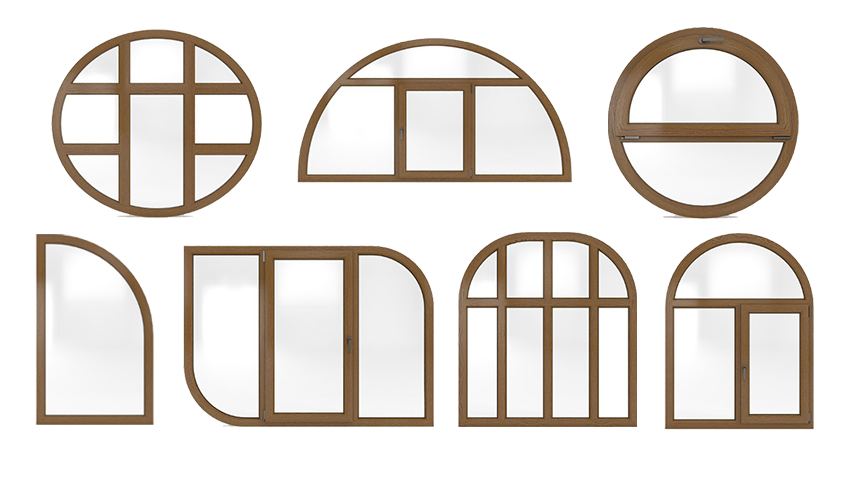 Round and semicircular shapes, arched structures, as well as structures with bent mullions - harmoniously fit into the architectural style of the building, adding to its sophistication and individual character.
The company KORSA Fenster GmbH is ready to individually approach the needs of customers, developing and manufacturing non-standard designs according to their wishes, which guarantees the satisfaction and uniqueness of each project. Windows and doors of rounded design forms are used in architectural masterpieces such as churches, cathedrals, palaces, city halls, and private houses.
Polygonal structures
KORSA Fenster GmbH is your reliable partner in creating custom window and door designs that meet your individual and exclusive needs. We are focused on providing maximum customer satisfaction.
We create window and door designs in the form of triangles, trapezoids, pentagons, octagons and hexagons that meet your functional and design needs. Whatever form of the window you need - you will get it in top-class quality.
We implement any design solutions
Impress people with the uniqueness and aesthetic appearance of your windows. Each element of glass, color, and pattern placement has its own meaning and creates a unique composition. A large selection of stained glass variations and designs gives you the opportunity to find the perfect option for your room. You can choose from classic or modern motifs, abstract or realistic images that best express your preferences and style.